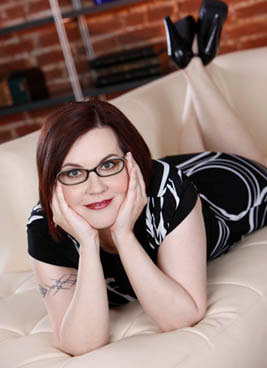 Tristan Taormino is an author, editor, columnist, sex educator, speaker, feminist filmmaker, and radio host of Tristan Taormino's sex-positive salon, PuckerUp.com. It's a place where people come to get honest, down-to-earth, non-judgmental sex and relationship advice. It's a resource for information about sexuality (with an emphasis on anal pleasure and health), kink and BDSM, relationships (especially alternative ones), feminist pornography, LGBT community issues, and sex-positive events. It's a community space to connect with other sex nerds, writers, anal aficionados, ethical porn makers and lovers, sex educators, activists, and members of the perverati.
Tristan Taormino is the author of eight books including 50 Shades of Kink: An Introduction to BDSM, The Secrets of Great G-Spot Orgasms and Female Ejaculation, The Big Book of Sex Toys, The Anal Sex Position Guide, Opening Up: A Guide to Creating and Sustaining Open Relationships, True Lust: Adventures in Sex, Porn and Perversion, Down and Dirty Sex Secrets, and two editions of The Ultimate Guide to Anal Sex for Women.
She is the editor of 25 anthologies including The Ultimate Guide to Kink: BDSM, Role Play and the Erotic Edge and Take Me There: Trans and Genderqueer Erotica.
She was the founding editor of the Lambda Literary Award-winning series Best Lesbian Erotica. Her books have sold over 500,000 copies and been translated into many languages. She's written for a multitude of publications from Yale Journal of Law and Feminism to Penthouse, and served as editor of the feminist sex magazine On Our Backs.
For nine and a half years, she wrote a bi-weekly column in The Village Voice, which appeared alongside Dan Savage's column Savage Love and was awarded two Sex-Positive Journalism Awards. She has written an advice column for Hustler's Taboo Magazine since 1999.
Visit PuckerUp.com
Testimonials
Very friendly staff! A must go back 🙂

Justin Wendling

Great staff. The girls at the front are always friendly and helpful. (The goth one is 😍) High quality selection of toys and products.

Nintai Outdoors TX

Best store in town for adult novelties. The manager is super nice and the staff is always helpful. We go there about once a month.

Ozzy Osborne

Wonderful selection.

Clark Potts

I love how helpful and friendly all the ladies were when I visited. Helped me find what I needed without a problem. Definitely will be going back.

Keny Espinoza