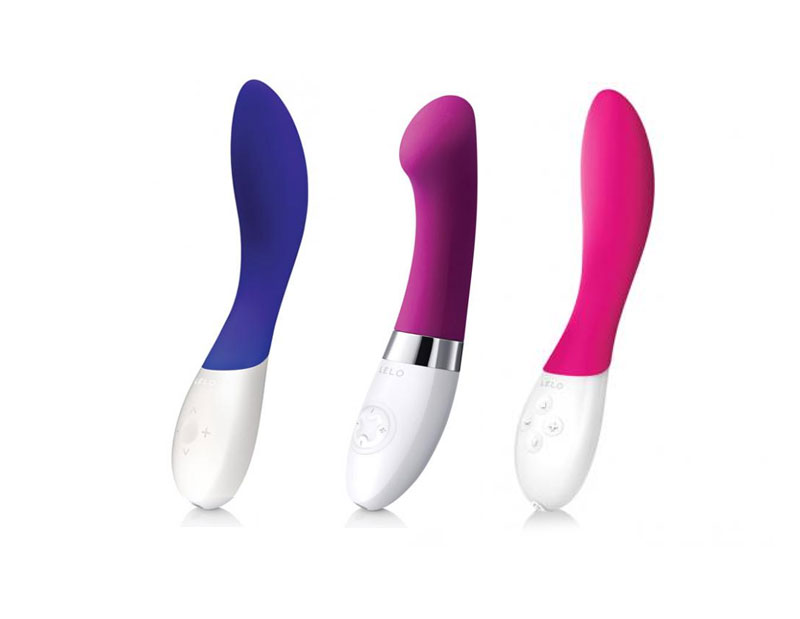 With all the studies released on a near-weekly basis proving or disproving the existence of the G-spot, millions of women worldwide who enjoy G attention tend to ignore the noise and just keep this particular pleasure coming, as it were.
For such a "disputed" part of the female anatomy, it sure does make up a very popular portion of LELO's product catalog. Check out their tried, tested, and truly amazing massagers—widely considered the best G-spot vibrators available—for women who forget the hype, and focus on the feels.
The revamped version of a curvy customer favorite, MONA 2 offers a fuller feeling during G-spot massage, with its flared pleasure point that can also be used for external sensations during solo or paired use. As an improvement on the original MONA, MONA 2 delivers 100% more vibration power, and is now fully-waterproof for enjoyment in the bath or shower thanks to its vacuum-sealed charging socket.
If you're new to G-spot sensations, or are already a fan of having a partner use the 'come-hither' method, then look no further than the MONA Wave. Using WaveMotion technology, it is able to rise and fall within you, mimicking the sensations of your partner's fingers to bring you to great heights.
Officially the world's bestselling G-spot vibrator GIGI 2's specially-designed flattened tip has made it the intimate item of choice for those seeking focused G-spot sensations. This dynamic shape can also be used externally for different, but no less pleasurable clitoral stimulation. Or you can turn it around and target your PS-spot! All of which makes GIGI 2 one of the most versatile and satisfying personal massagers on the market.
---
So if you happen to be a G-fan, get started on your search for the Holy Grail of Pleasure,  G-spot deniers be damned!
Customer Service
This location is on my way home so easy and convenient. Elizabeth at the front is always so helpful and friendly. If I can't find what I'm looking for, she […]

Robert B.

Great customer service. I felt welcomed and were laughing and found what I was looking for in seconds. [Tomball]

Didi S.

1. Friendly staff, made me feel extremely comfortable!! 2. Affordable prices I've been to this store many times and I won't stop going. [Washington]

Natalia Z.

This is my all time favorite place! I get all my good swimsuits from here and they are perfect for allowing more of your body to tan without being inappropriate! […]

Rachel H.

Love it! They had exactly what I was looking for in making the night special for my hubby's birthday! He absolutely loved it!!! Will definitely be back to shop for […]

Crystal K.

The workers here were fantastic and super helpful. Usually when I'm in an adult shop and I have to interact with the employees I leave feeling acutely uncomfortable and embarrassed, […]

Piper C.

This store has an amazing collection of toys as well as lubes, lingerie, BDSM gear, and novelty items to make every night an unforgettable one. The staff perform at the […]

John M.

Awesome selection of lingerie and exotic dance wear. Expansive selection of toys and adult entertainment. More inclusive of all lifestyles as well. Top-rated brands and fair pricing without outrageous mark-up. […]

Steeva Lynne

Loved the staff! The two girls that help me and my husband were so nice and helpful. It's hard to find employees like that. [Tomball]

Haivan Bui

Great customer service here. Angel and Brandi are the best. 10/10 will shop here again. [The Woodlands]

Ozzy Osborne

John deserves a raise! He was super friendly and helpful throughout our shopping experience. He recommended products for us and gave us his insights on ones we found ourselves. He […]

Awna C.

It has been several years since I visited an adult novelty store, and never one in this chain. Brooke and Raven took such great care of me, answered all my […]

Nancy K.

I'm a guy and kinda private. Walking into the store, I was greeted and left alone to "browse" which is what I wanted.  After having difficulty finding the product I […]

Mike S.

I love how friendly and knowledgeable the staff are and the quality of the products they offer is amazing in comparison to other stores. I will return to them again. […]

Pestica88

Like the staff, always friendly they make you feel comfortable. [Tomball]

Theo Brown

Great service from the associates! They were very helpful, and helped me select the product best for me. They have a large selection of toys. I am satisfied with the […]

Chancey

I love it! The hubby and I always have a great time here. The clerks are so nice and helpful. [Tomball]

Lisa Oliver

Great customer service! A very wide selection made it hard for me to decide on what to get. Both salespeople were friendly, knowledgeable and non-judgemental! I definitely recommend this store […]

Carlos H

They are great!!!!! Faith was fantastic and prices are great. I went to 3 other shops not even 10 minutes apart from Cindie's and I ended up spending my money […]

Taylor D.

The Woodlands location is the best!!!! All the latest and best toys, and let me tell you they know their stuff!

Amber Shackelford