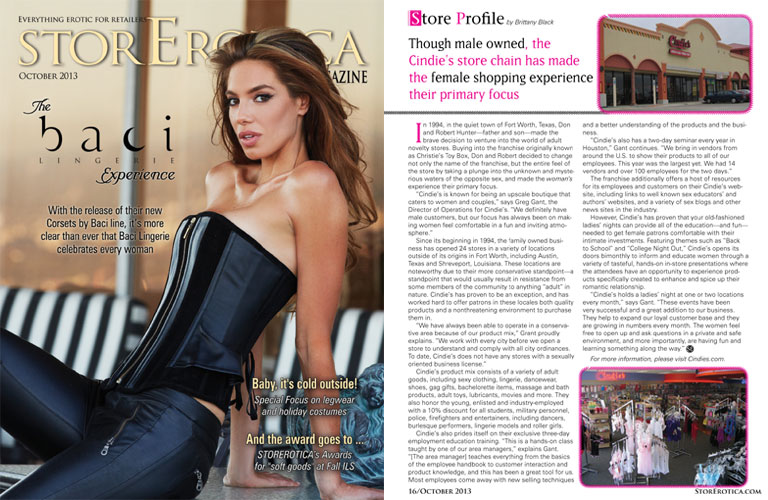 by Brittany Black
Though male owned, the Cindie's store chain has made the female shopping experience their primary focus.
In 1994, in the quiet town of Fort Worth, Texas, Don and Robert Hunter—father and son—made the brave decision to venture into the world of adult novelty stores. Buying into the franchise originally known as Christie's Toy Box, Don and Robert decided to change not only the name of the franchise, but the entire feel of the store by taking a plunge into the unknown and mysterious waters of the opposite sex, and made the woman's experience their primary focus.
"Cindie's is known for being an upscale boutique that caters to women and couples," says Greg Gant, the Director of Operations for Cindie's. "We definitely have male customers, but our focus has always been on making women feel comfortable in a fun and inviting atmosphere."
Since its beginning in 1994, the family owned business has opened 24 stores in a variety of locations outside of its origins in Fort Worth, including Austin, Texas and Shreveport, Louisiana. These locations are noteworthy due to their more conservative standpoint—a standpoint that would usually result in resistance from some members of the community to anything "adult" in nature. Cindie's has proven to be an exception, and has worked hard to offer patrons in these locales both quality products and a nonthreatening environment to purchase them in.
"We have always been able to operate in a conservative area because of our product mix," Grant proudly explains. "We work with every city before we open a store to understand and comply with all city ordinances. To date, Cindie's does not have any stores with a sexually oriented business license."
Cindie's product mix consists of a variety of adult goods, including sexy clothing, lingerie, dancewear, shoes, gag gifts, bachelorette items, massage and bath products, adult toys, lubricants, movies and more. They also honor the young, enlisted and industry-employed with a 10% discount for all students, military personnel, police, firefighters and entertainers, including dancers, burlesque performers, lingerie models and roller girls.
Cindie's also prides itself on their exclusive three-day employment education training. "This is a hands-on class taught by one of our area managers," explains Gant. "[The area manager] teaches everything from the basics of the employee handbook to customer interaction and product knowledge, and this has been a great tool for us. Most employees come away with new selling techniques and a better understanding of the products and the business.
"Cindie's also has a two-day seminar every year in Houston," Gant continues. "We bring in vendors from around the U.S. to show their products to all of our employees. This year was the largest yet. We had 14 vendors and over 100 employees for the two days."
The franchise additionally offers a host of resources for its employees and customers on their Cindie's website, including links to well known sex educators' and authors' websites, and a variety of sex blogs and other news sites in the industry.
However, Cindie's has proven that your old-fashioned ladies' nights can provide all of the education—and fun—needed to get female patrons comfortable with their intimate investments. Featuring themes such as "Back to School" and "College Night Out," Cindie's opens its doors bimonthly to inform and educate women through a variety of tasteful, hands-on in-store presentations where the attendees have an opportunity to experience products specifically created to enhance and spice up their romantic relationship.
"Cindie's holds a ladies' night at one or two locations every month," says Gant. "These events have been very successful and a great addition to our business. They help to expand our loyal customer base and they are growing in numbers every month. The women feel free to open up and ask questions in a private and safe environment, and more importantly, are having fun and learning something along the way."
Recent Posts
Customer Service
Awesome selection of lingerie and exotic dance wear. Expansive selection of toys and adult entertainment. More inclusive of all lifestyles as well. Top-rated brands and fair pricing without outrageous mark-up. […]

Steeva Lynne

Loved the staff! The two girls that help me and my husband were so nice and helpful. It's hard to find employees like that. [Tomball]

Haivan Bui

Great customer service here. Angel and Brandi are the best. 10/10 will shop here again. [The Woodlands]

Ozzy Osborne

I love how friendly and knowledgeable the staff are and the quality of the products they offer is amazing in comparison to other stores. I will return to them again. […]

Pestica88

Like the staff, always friendly they make you feel comfortable. [Tomball]

Theo Brown

Great service from the associates! They were very helpful, and helped me select the product best for me. They have a large selection of toys. I am satisfied with the […]

Chancey

I love it! The hubby and I always have a great time here. The clerks are so nice and helpful. [Tomball]

Lisa Oliver

Great customer service! A very wide selection made it hard for me to decide on what to get. Both salespeople were friendly, knowledgeable and non-judgemental! I definitely recommend this store […]

Carlos H

They are great!!!!! Faith was fantastic and prices are great. I went to 3 other shops not even 10 minutes apart from Cindie's and I ended up spending my money […]

Taylor D.

The Woodlands location is the best!!!! All the latest and best toys, and let me tell you they know their stuff!

Amber Shackelford

I went for Ladies Night and it was a blast! Melanie was incredible! She was very knowledgeable about the products, and everyone was super helpful and friendly.

Madylenn Kenner

Great service, good prices, lots of choices.

Henry Green

Great place to spice up the bedroom for a little fun.

Jeff Osbourne

I have never felt inclined to leave a review about an employee at any adult store before; but Kayla at this location was wonderful. She was not only very helpful, […]

Mel Pac

My go-to store for everything I need. Friendly staff and a good selection. Anything you can't find in store, you definitely can find online.

Tatyana Hinton

These girls are nothing but helpful! [Hwy 6]

Morgan Rhodes

Had a great experience, especially for my first time in an Adult Boutique. Staff was very friendly and welcoming, open to help with any questions I had. Will probably come […]

Noor Khan

The lady who works there is more than very helpful.

Alex Calderon

I've never had a bad experience at any Cindie's locations! The gals working here are so helpful and knowledgeable about all the products they carry. Since it was a slow […]

Sam K.

Awesome staff and very informative about various kinks and such. The environment is warm and inviting, not creepy and rapey like a lot of the ones in Houston are. Shopping […]

Jayde Q.