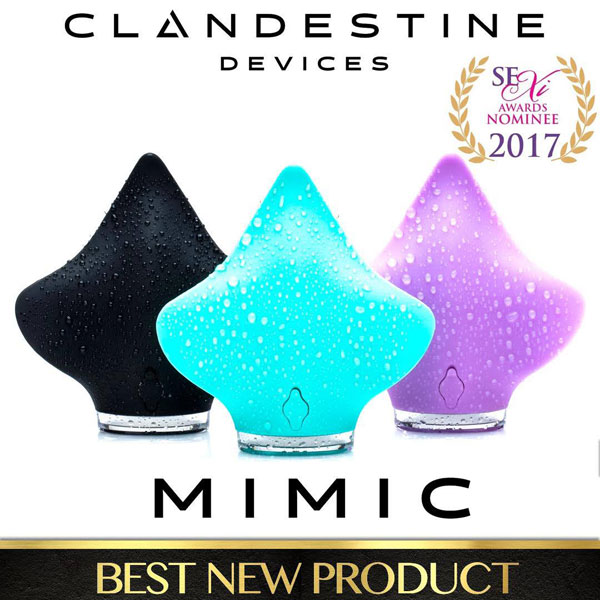 A Sensory Experience Designed To Be Touched
This secret is worth keeping with discreet vibrations, the purple Mimic was crafted in silky silicone with comfort and pleasure in mind while being body-safe for your most sensitive parts. Its unique, ergonomic shape is 3.5 inches wide and 3.5 inches long so the Mimic fits perfectly in your hand. The simple interface allows 8 powerful vibration patterns to travel to their pinpoint location or a more broad sensitive zone to keep things interesting while playing solo or with a partner.
Equipped with a travel lock, for those on-the-go, and an LED base that assists in the dark and serves as a charging indicator, the Mimic is bound to be a new favorite. However you prefer, the Mimic is your best-kept secret. Feel free to keep it to yourself or share with someone close to you. There is a handy Travel Lock to be discreet while traveling and make your journey memorable instead of embarrassing. To add a little something extra, there is a subtle LED Glow for when the lights go down.
The Clandestine Devices Mimic features a different flexible design that is focused on a certain area but definitely not restricted to how you can use it. With the Mimic the 8 different patterns start with a steady vibration, a Throb, Quiver, a smooth wavy Chandelle, a sharp Surge, a variable Caress, a unique Fondle and ends with a True Pulse pattern with a double vibe with a smooth space before a double vibe again.
The wings of the Mimic look like a Wray or Stingray and they bend and flex for ultimate comfort or reshape for multiple uses and exploration in or out of the water with Mimic being completely waterproof. With supple, body-safe silicone, ascend delivers powerful vibrations to your personal pleasure points.
You never have to look for batteries because the Mimic is USB rechargeable using a high performance lithium battery that runs over 2 hours on a single charge. You can charge it by plugging the adapter into any USB port on a PC/Laptop or your smartphone wall adapter. All of the Mimic Vibrators come with a 1-year warranty and available in Seafoam Green, Lilac Purple and Black.
Made of soft Silicone and ABS Plastic, the Clandestine Devices Mimic glides around & in easily with just a small dab of your favorite water based lubricants and offers tons of stimulating texture for a truly wild ride. It is not recommended to be used with silicone lubes. After use, carefully wash the toy with mild soap and water or try the Toy Cleaner for even quicker cleanup. Store this toy separately from other sex toys.
Available at select Cindie's locations.
Testimonials
Very friendly staff! A must go back 🙂

Justin Wendling

Great staff. The girls at the front are always friendly and helpful. (The goth one is 😍) High quality selection of toys and products.

Nintai Outdoors TX

Best store in town for adult novelties. The manager is super nice and the staff is always helpful. We go there about once a month.

Ozzy Osborne

Wonderful selection.

Clark Potts

I love how helpful and friendly all the ladies were when I visited. Helped me find what I needed without a problem. Definitely will be going back.

Keny Espinoza