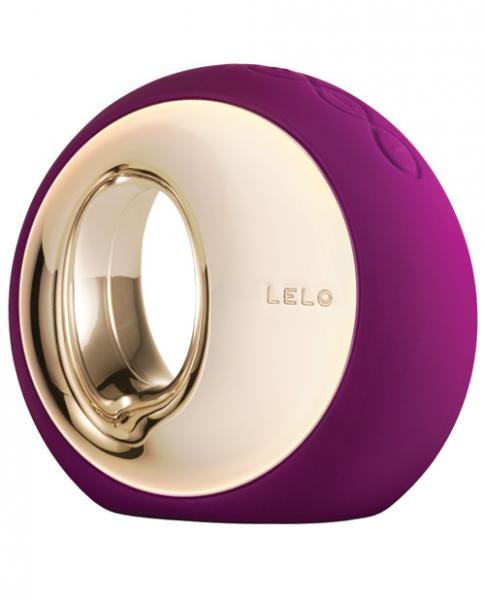 Surrender to the most exciting oral pleasure imaginable, with an upgraded version of Lelo's multi award-winning oral sex simulator. With a larger rotating nub that sits just beneath its smooth silicone skin, Ora 2 promises long seductive swirls, waves, fast flicks and intense pulsations on and around the clitoris. This outstanding design is also USB-rechargeable and offers the option of applying SenseTouch technology through its 10 stimulation modes, where vibrations activate on contact with the skin. Moves in full and half circles, for the oral pleasure you have always dreamed of with a new intense setting brings an extra 30% power at the push of a button.
Giving women the same waves of ecstasy enjoyed during oral sex, choose from 10 varied stimulation patterns, as 100% waterproof Ora 2 leaves your body trembling, quivering and yearning for more. Mimicking the fast flicks and long, seductive swirls of the tongue, ORA 2's stimulator glides over and around the clitoris from beneath a thin layer of smooth silicone. Explore 10 unique stimulation patterns, which combine different oral movements with new vibration patterns, for the most satisfying pleasure imaginable.
Recent Posts
Customer Service
They are great!!!!! Faith was fantastic and prices are great. I went to 3 other shops not even 10 minutes apart from Cindie's and I ended up spending my money […]

Taylor D.

The Woodlands location is the best!!!! All the latest and best toys, and let me tell you they know their stuff!

Amber Shackelford

I went for Ladies Night and it was a blast! Melanie was incredible! She was very knowledgeable about the products, and everyone was super helpful and friendly.

Madylenn Kenner

Great service, good prices, lots of choices.

Henry Green

Great place to spice up the bedroom for a little fun.

Jeff Osbourne

My go-to store for everything I need. Friendly staff and a good selection. Anything you can't find in store, you definitely can find online.

Tatyana Hinton

I've never had a bad experience at any Cindie's locations! The gals working here are so helpful and knowledgeable about all the products they carry. Since it was a slow […]

Sam K.

Awesome staff and very informative about various kinks and such. The environment is warm and inviting, not creepy and rapey like a lot of the ones in Houston are. Shopping […]

Jayde Q.

This place is amazing. The girls working there make you feel very comfortable about what you're purchasing and are very educated about the products. There are 2 young ladies who are […]

Viviana A.