About Cindie's
Since 1994, Cindie's sex store has provided sexy outfits, lingerie, toys, and other adult novelty gifts to adult individuals and couples. When you walk into one of our stores or shop online, you can rest assured that you'll be purchasing the highest quality products. If you ever need any assistance, our well-trained, friendly, knowledgeable associates are ready to help.
The Sex Shop Near Me with Class
Our online and brick-and-mortar stores stock a wide variety of adult products including sexy clothing, massage and bath products, adult toys, lubricants, movies, adult novelties and much more. We have everything you'd expect to find at a classy sex store.
Is this your first time at Cindie's? Welcome! We're glad you found us. If you need anything, our friendly, open-minded employees will provide you with personalized recommendations in a comfortable, non-judgmental shopping setting.
If you're a returning customer, it's great to see you again! Glad you've come back to shop with us. We often hear, "you're our favorite sex shop near me." Customers say that our staff constantly exceeds their expectations and that their personalized product suggestions and advice are right on target.
Check out our locations in Texas, Louisiana or Alaska and see for yourself why customers love our bright and colorful stores and our wide variety of sexy clothing, lingerie, gifts, and other adult novelties. If you don't live nearby, our online store carries most everything you'll find in our store. Simply place your order and we'll ship it directly to your home in discreet packaging.
We hope to see you soon!
Employment
Cindie's seeks professional, friendly associates with strong customer service and communication skills who are comfortable working with adult merchandise. You must be 18 and up and have a flexible schedule to apply.
If you want to join the Cindie's team as a Sales Associate, please email your resume to the store you want to work at. Contact information for each store is listed on our Contact Us page.
CINDIE'S   CORNER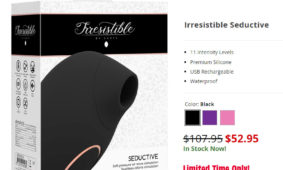 standard
Even though the Seductive is whisper quiet , we can't guarantee you'll be. The Seductive has a rechargeable battery with READ MORE >