Adult Novelty Store with Class
Cindie's opened in 1994 as a classy adult novelty store with a comfortable shopping environment for sexy clothing, lingerie, gifts, and adult novelties. Here at Cindie's, we know every customer has different needs, and our well-trained, friendly, knowledgeable associates are dedicated to helping you find the perfect products.
Along with sexy wear and lingerie, we sell a variety of adult products including dancewear, shoes, gag gifts, Bachelorette items, massage and bath products, adult toys, lubricants, movies, and many other types of adult novelties.
Cindie's welcomes all adult individuals and couples. Whether you are a first-time buyer or frequent adult novelty shopper, our friendly and open-minded employees will provide you with personalized recommendations in a comfortable, non-judgmental shopping setting.
Featured Product
Sensuelle Remote Control Rechargeable Bullet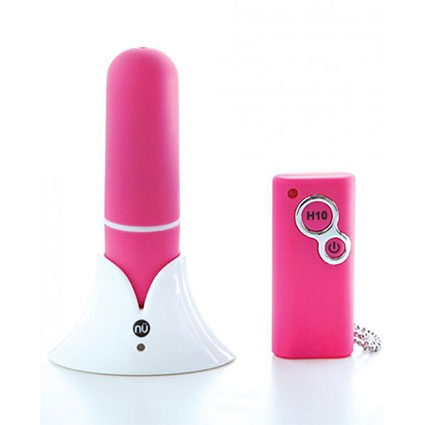 Take control of your sex life and introduce some discreet, wireless fun. Make love from a distance, indoors or outside or anywhere you like. The Sensuelle Wireless Remote Control Bullet is both sleek and compact, with an ultra-discreet remote that can be taken anywhere without being noticed. It is fully rechargeable so you never run out of batteries, and is ready at your fingertips whenever you are in the mood for some cheeky fun.
This amazing bullet features 10 different functions, ranging from vibrations, pulsations and escalations that are easily controlled with the remote control. It has a deeply intense motor, with multi-function modes and vibrations, designed to create powerful sensations with ease. The best part is that it will go the distance and has been tested to function up to 65 feet! Imagine the fun you can have with this.


Love this toy!
"Love this toy for date nights or any other night. Give the husband the remote and let him control you. This toy is worth it and really powerful."
27 Store Locations Nationwide
Check out our locations in Texas, Louisiana, Oregon, or Alaska and see for yourself why customers love our bright and colorful stores. Each of our stores has a unique selection of lingerie and adult merchandise. If you are searching for a specific item, call or visit your local Cindie's, and a friendly associate will be happy to check the item's availability.
Cindie's sells seasonal lingerie, toys, and gifts for holidays such as Valentine's Day and Christmas. We also carry a large selection of sexy costumes for Halloween from August to November.
Customers frequently tell us that we are their favorite adult novelty store because our staff constantly exceeds their expectations by providing personalized product suggestions and advice.
BRANDS
This location is on my way home so easy and convenient. Elizabeth at the front is always so helpful and friendly. If I can't find what I'm looking for, she helps or […]

Robert B. - Yelp 8/19/19

Great customer service. I felt welcomed and were laughing and found what I was looking for in seconds. [Tomball]

Didi S. - Yelp 7/30/19

1. Friendly staff, made me feel extremely comfortable!! 2. Affordable prices I've been to this store many times and I won't stop going. [Washington]

Natalia Z. - Yelp 7/13/19

This is my all time favorite place! I get all my good swimsuits from here and they are perfect for allowing more of your body to tan without being inappropriate! The lingerie […]

Rachel H. - Yelp 7/6/19

Love it! They had exactly what I was looking for in making the night special for my hubby's birthday! He absolutely loved it!!! Will definitely be back to shop for more! [Arlington]

Crystal K. - Yelp 6/15/19

The workers here were fantastic and super helpful. Usually when I'm in an adult shop and I have to interact with the employees I leave feeling acutely uncomfortable and embarrassed, here was […]

Piper C. - Yelp 6/9/19

This store has an amazing collection of toys as well as lubes, lingerie, BDSM gear, and novelty items to make every night an unforgettable one. The staff perform at the highest level […]

John M. - Yelp 5/14/19

Awesome selection of lingerie and exotic dance wear. Expansive selection of toys and adult entertainment. More inclusive of all lifestyles as well. Top-rated brands and fair pricing without outrageous mark-up. Brand new […]

Steeva Lynne - Google 4/24/19

Loved the staff! The two girls that help me and my husband were so nice and helpful. It's hard to find employees like that. [Tomball]

Haivan Bui - Google 3/22/19

Great customer service here. Angel and Brandi are the best. 10/10 will shop here again. [The Woodlands]

Ozzy Osborne - Google 4/23/19

John deserves a raise! He was super friendly and helpful throughout our shopping experience. He recommended products for us and gave us his insights on ones we found ourselves. He seemed very […]

Awna C. - Yelp 3/30/19

It has been several years since I visited an adult novelty store, and never one in this chain. Brooke and Raven took such great care of me, answered all my questions, showed […]

Nancy K. - Yelp 3/13/19

I'm a guy and kinda private. Walking into the store, I was greeted and left alone to "browse" which is what I wanted.  After having difficulty finding the product I wanted, the […]

Mike S. - Yelp 3/4/19

I love how friendly and knowledgeable the staff are and the quality of the products they offer is amazing in comparison to other stores. I will return to them again. [The Woodlands]

Pestica88 - Google 2/23/19

Like the staff, always friendly they make you feel comfortable. [Tomball]

Theo Brown

Great service from the associates! They were very helpful, and helped me select the product best for me. They have a large selection of toys. I am satisfied with the product and […]

Chancey - Google 1/23/19

I love it! The hubby and I always have a great time here. The clerks are so nice and helpful. [Tomball]

Lisa Oliver - Google 1/21/19

Great customer service! A very wide selection made it hard for me to decide on what to get. Both salespeople were friendly, knowledgeable and non-judgemental! I definitely recommend this store for your […]

Carlos H - Google 1/18/19

They are great!!!!! Faith was fantastic and prices are great. I went to 3 other shops not even 10 minutes apart from Cindie's and I ended up spending my money in there! […]

Taylor D. - Yelp 11/3/18

The Woodlands location is the best!!!! All the latest and best toys, and let me tell you they know their stuff!

Amber Shackelford - Google 10/5/18

I went for Ladies Night and it was a blast! Melanie was incredible! She was very knowledgeable about the products, and everyone was super helpful and friendly.

Madylenn Kenner - Google 10/4/18

Great service, good prices, lots of choices.

Henry Green - Google 10/2/18

Great place to spice up the bedroom for a little fun.

Jeff Osbourne - Google 10/1/18

I have never felt inclined to leave a review about an employee at any adult store before; but Kayla at this location was wonderful. She was not only very helpful, and very […]

Mel Pac - Google 9/14/18

My go-to store for everything I need. Friendly staff and a good selection. Anything you can't find in store, you definitely can find online.

Tatyana Hinton - Google 9/1/18

These girls are nothing but helpful! [Hwy 6]

Morgan Rhodes - Google 7/8/18

Had a great experience, especially for my first time in an Adult Boutique. Staff was very friendly and welcoming, open to help with any questions I had. Will probably come again. 👍 […]

Noor Khan - Google 6/12/18

The lady who works there is more than very helpful.

Alex Calderon - Google 4/20/18

I've never had a bad experience at any Cindie's locations! The gals working here are so helpful and knowledgeable about all the products they carry. Since it was a slow night, the […]

Sam K. - Yelp 3/29/2018

Awesome staff and very informative about various kinks and such. The environment is warm and inviting, not creepy and rapey like a lot of the ones in Houston are. Shopping here is […]

Jayde Q. - Yelp 1/13/17

This place is amazing. The girls working there make you feel very comfortable about what you're purchasing and are very educated about the products. There are 2 young ladies who are the absolute […]

Viviana A. - Yelp 9/13/15